Poured Concrete
Is a poured concrete foundation better than a block foundation?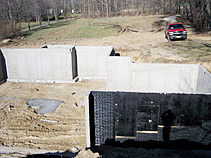 Choosing poured basement walls over a block basement should be any easy choice to make considering the advantages of the poured basement wall. Poured basement walls are stronger, drier, more durable, and can be constructed more quickly than block basements. Even though our winters can be severe, poured walls can be constructed year-round. In addition to this, poured concrete walls are better suited for building on "marginal lands," and with the great variety of soil types found in Michigan, this is an important advantage.
Poured wall basements also offer greater design flexibility, which is important for the homes of today. Homes with poured walls will also have greater resale value, which is an important consideration when building a new home. Poured basements are also competitively priced, which makes them an exceptional value considering their enhanced performance.
If basement cracking or leakage were to occur, poured basements can be easily treated with polyurethane foam injections. Block basement repair can be costly, and often involves excavation and disruption to the landscape of a home.
The choice is clear. Choose a poured concrete foundation for your new home!
What are important factors when considering a poured concrete foundation contractor?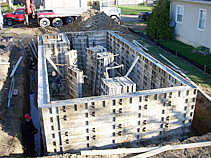 You must look at their experience, and ask questions regarding the adjustments made for pouring walls in the different seasons. The strength and variations of the concrete mix should be adjusted throughout the year, so you should look for a contractor with an extensive knowledge of this practice. Your contractor should utilize admixtures, blanket the walls during the winter months, and should have a close relationship with concrete suppliers.
The use of both vertical and horizontal steel should be considered. The proper steel reinforcement reduces the chance and severity of shrinkage cracks, and also adds the tensile strength that concrete lacks.
You should also choose a contractor at the forefront of his peers in both business and technology. If your foundation contractor is not around in the future, your chance of getting technical help later is very marginal. Also, if the equipment and business looks professional, you will likely receive a professionally handled job.
How easy is it to fix a leak in a poured foundation wall?


It is very easy, and can be done from inside the basement. After being sealed with a 2-part epoxy coating, an expanding polyurethane foam is hand-pumped through special fittings which are inserted into the wall. The fittings are left in the wall and are sealed over, leaving the wall smooth and the crack filled. If done correctly, no excavations or disruptions to the existing landscape are required.
Why Use Poured Foundations?
STRENGTH
Poured walls have a compressive and flexural strength several times that of block and far beyond the required safety factor.
WATER RESISTANCE
The increased strength, density, and joint-free construction of poured walls dramatically reduce basement water problems. A watertight basement means fewer calls back for the builder or developer, not to mention fewer warranty problems.
DESIGN FLEXIBILITY
Poured wall techniques are adaptable to most home designs.
MAINTENANCE EASE
Poured wall construction is virtually maintenance-free.
TIME
Poured wall foundations take half the time block foundations do.
Remember, we provide
free estimates
and proudly offer you our more than
35 years of experience
in the business. Why wait?
Contact Us today
!